Hello,
I try to understand how we can make requests to a SOAP API within Enfocus Switch.
I want to test the DPD SOAP API
https://esolutions.dpd.com/
they have a sandbox for testing purposes.
For those who don't know DPD is a famous Parcel delivery service in Germany.
The first CALL we have to make is to get an Auth Token at:
https://public-ws-stage.dpd.com/service ... V2_0/?wsdl
We have to provide the DelisID: sandboxdpd and password: xMmshh1 and also a MessageLanguage format like "en_EN".
I tried this in Integromat and it worked.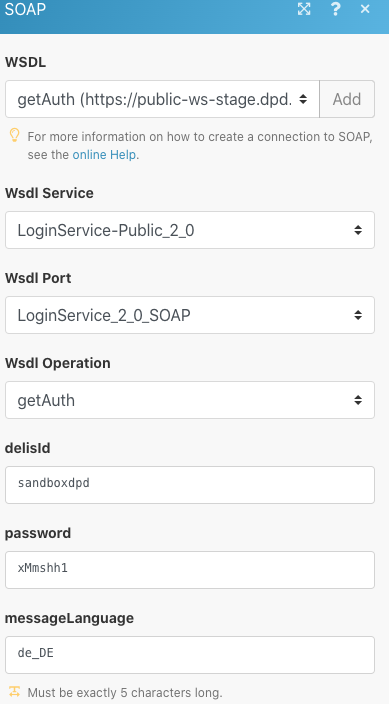 Now I want to make the same call in Switch Scripter.
By reading the documentation (
https://www.enfocus.com/manuals/Develop ... class.html
) I find even with the scripting examples, it's really hard to understand what's really going on.
Does somebody have experience with SOAP API´s and could give me a hint on how to set this up?
Code: Select all
//  DPD SOAP API
function jobArrived( s : Switch, job : Job )
{
	
	SOAP.request("https://public-ws-stage.dpd.com/services/LoginService/V2_0/?wsdl")
}